When Zazzle began offering puzzles and I saw that the base price for selling was $14.95, I made a few to add to my seashell store, but really wondered if anyone would pay that for a puzzle.
After all, you can pick puzzles up for a quarter at yard sales and even find them for free in the local swap shop.  I hadn't bought a "new" puzzle in many years.
I really doubted that they would sell. And the larger size is even costlier.
However, I have been proven wrong.
I suppose that the yard sale and other cheap (and used) puzzles may be missing pieces. Don't you hate that? And my seashell photography is unique to my stores, so these puzzles won't be sold everywhere.  I guess my customers think they are worth the price.
I would consider this puzzle to be an asset at any beach rental home.   We even worked on a puzzle recently at an Inn in New Hampshire.  It was in the lobby for guests to collectively assemble.
And puzzles are a calm way to spend time with the family – especially on a rainy day. Shut off the TV and work together to make a masterpiece.
If you are staying at a beach in a very hot location, the middle of the day is a good time to take a break from the sun. Have a drink and work on a pretty, seashell puzzle.
Here is one of mine.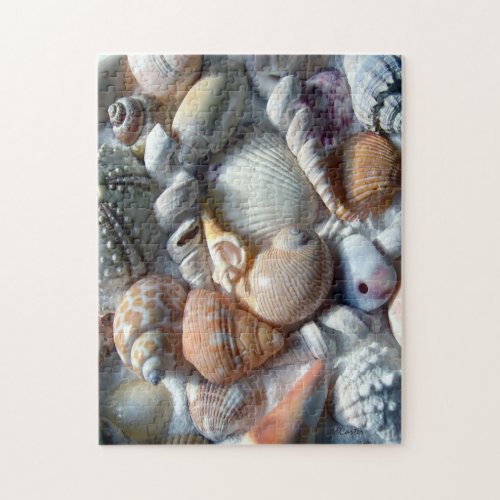 View all our puzzles at Seashells by Millhill
Related articles