These are my Crown conch shells. At first I thought that the large one (in the framed print) was a very worn Florida Crown conch, also called a "King's Crown", but my reference book (National Audubon Society's Field Guide to Shells) has a good photo of a West Indian crown conch and mine looks a lot more like that one. According to that book, they live in "the larger Islands of the West Indies to southern Mexico and Surinam".
The Florida Crown Conch has many spines coming off the whorls which look like a "crown".  See a photo here.  In fact I believe I do have a Florida crown conch that is quite small, but it has the spikes creating the "crown". I've added it as a thumnail picture at the top of this page.
I collected this shell (in the photo below) on the beach at Sanibel Island and it's 2 1/2 inches long.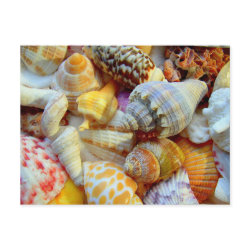 West Indian Crown conch (left)… Florida Crown conch or King's Crown (among shells on the postcard – right)